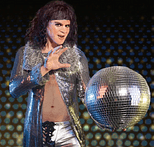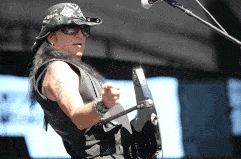 (Added March 26, 2023)
Jimi Bell of Demons Down, House of Lords and Autograph, talks with DC about his friend and bandmate Randy Rand, who passed away in 2022.
(NEVER AIRED CLIP)
(Added April 16, 2023)
Mo'Rpyce Peterson of TRAGEDY played Krazy Kwestions with DCtheDJ, but we didn't have time to air the segment... here it is for all to enjoy!
(Added Feb 19, 2023)
We've had Mark Boals on the show before, but here's a never aired interview with him talking with DC about his band RING OF FIRE. Mark was on a cruise ship, so the WIFI wasn't that great, but it was a good conversation we didn't want his fans to miss.
(Added Feb 28, 2023)
It's always great to chat with Robin McAuley, and I know how much he enjoys my end of interview Krazy Kwestions (that's sarcasm), so here he is answering some questions the last time he was on the show.
(Added March 19, 2023)
Hear and watch Todd Kerns of Heroes & Monsters answer the Back To The Arena Krazy Kwestions on a recent show.
DC talked with Tuomas Seppälä from Amberian Dawn about their album "Take A Chance" - A Metal Tribute To Abba. See this never heard interview from the end of 2022.
Hear my conversation with Steve Blaze of Lillian Axe as heard on Episode #224. Songs have been edited/condensed for time.
Jeff Scott Soto joined us on episode #210 to talk about his "Complicated" album. Hear the interview from the radio show. (Songs edited for time).
MORE TO COME...
CHECK BACK SOON
DC and Caterina Nix of Chaos Magic sat down on a zoom call, and the interview never made it onto the show, but here's your chance to not only hear the interview, but to see them talk. We interview so many bands and artists, sometimes we can't get them all aired on the show... so we will post them here!